Work paid a bonus this month, and I decided to finally get myself a portable photo wallet for when I'm at events like RIAT, without Mum's jukebox to offload on to. I've been eyeing up things like the Epson P-2000 and P-4000, as well as various HD based MP3 players, trying to find a device that made me happy (the requirements were large capacity, card reader and optionally display of the photos). While browsing Warehouse Express a few days ago, I came across the Smartdisk Digital Photobank – a 20 or 40 GB hard drive mated to multiple card readers, a battery and a USB 2 connector – at a decent price of £99 plus shipping (which was under 4 quid for next day).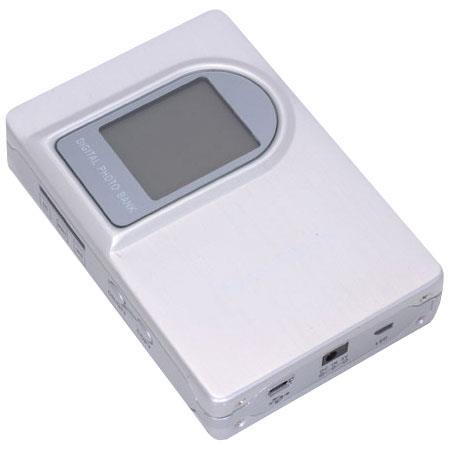 So, what's in the box?
Photobank
Two power adapters, one for the UK market, one for the EU market.
Lightweight, 80 cm, braided USB cable.
Carrying case
Manual in 6 languages – 11 pages per language
The unit weighs about 270g, and measures 11.5 cm by 7.5 cm by 2 cm. It's not quite pocket sized, but would fit in a jacket pocket quite easily, and possibly larger pockets found on some pairs of slacks or shorts. Based on the weight, I'll be keeping it in the back or top pocket of my Lowepro Slingshot bag. It came partially charged, and powered up completely in about 4 seconds. The screen powers up first displaying the battery state and then the hard drive spins up to determine the free capacity.
After a minute of inactivity (the manual claims 30 seconds), the unit powers down, which should lend towards a longer battery life. The power switch is slightly raised above the casing, so being in a bag with knobbly bits might continually power it up and down. Unfortunately, the carrying case only has a stiff back, and soft fabric sides, so even in the casing the switch can be activated.