We spent several days in Arklow, weather-constrained.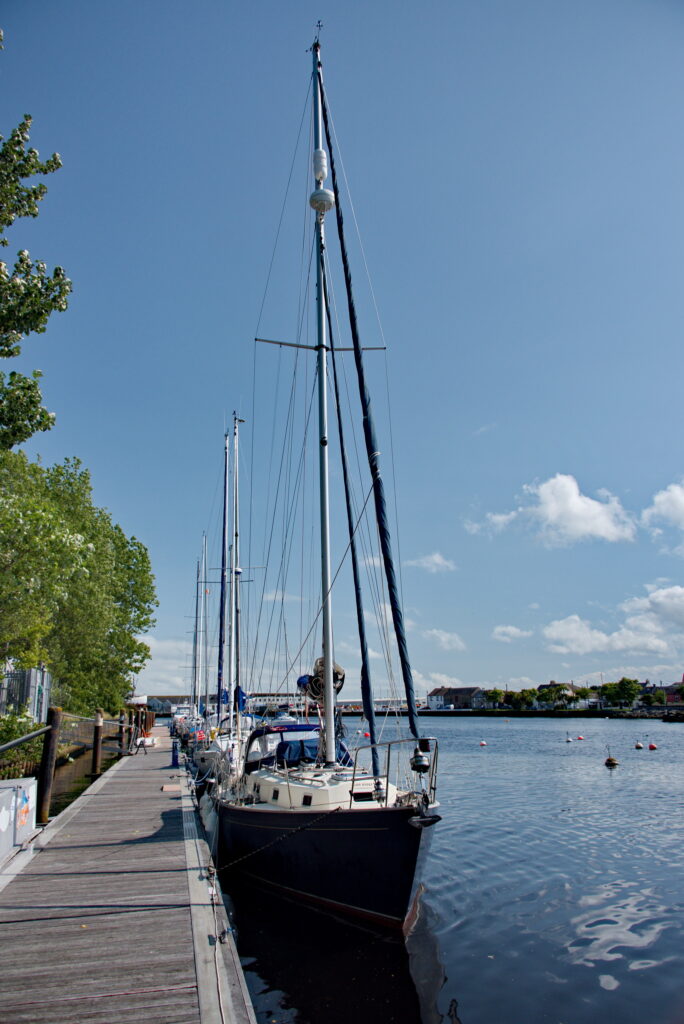 It's a small town, with a very busy shopping centre (at least on rainy days). The Kynoch's walk (archive) is quite nice – starts at the shopping centre, goes past the marina, and then goes north along the sea wall, through some bushes/trees (with fairy doors), and back through part of town to the shopping centre.
Wednesday
The other nice walk was the River Walk – cross the bridge into town, and then walk along the river bank. Nice sculpted wood – owl, badger, bench with two swans, and so on. At the end of the paved section, you can continue onwards through a lightly forested area, curve around under the M11 where it crosses the river, and then head back. Kinda noisy at that end; no way to enjoy the peace of the slow Avoca River.
Dinner on Wednesday was a pre-seasoned bit of salmon darnes from Dunnes, with home-grown potatoes and carrots from the victualler in Dun Laoghaire.
After dinner, we enjoyed the sunset, and took lots of photos of feathers floating down the river, from the ducks, swans, and seagulls that were on the bar above the bridge.
Thursday
Coming back from lunch on Thursday (Unique Cafe (archive), nice Brazilian food like pastels), I looked over at the bar in the river, and noticed a bird that one doesn't usually see in the wild in Ireland – a pelican! K and I both had our cameras with us, and telephoto lenses, so many photos of a pelican were taken. It had a band on one leg, so it's a known bird, not a random stranger from off-island. Turned out to be a jail-breaking Fota bird, and was seen later that afternoon on Bull Island in Dublin Bay!
Thursday was forecast F6 gusting 7 out of the south, and thus we stayed put. On Friday, the weather looked like it might be ok, so Friday was the "go south" day, with Saturday as the fallback day – we really wanted to be out of Arklow and further south, as the intent of the holiday is to get to the south coast.
To wrap up the day, we went walking on the Kynoch's Walk – a historical walking tour of the Kynoch's factory area of Arklow. We came across some bees collecting pollen, and a dog decided my fleece was a thing to urinate on.
Arklow Marina
Fees are 30 EUR for the first night, 20 EUR thereafter. Power is provided on the dock, 16A supply, as is potable water. Showers/toilets/laundry are in the marina building, which is a short walk around the main marina if you're on the river pontoon. No security to speak of – the gate is left unlocked on the river pontoon, and anyone could climb the ladder in the north marina basin.
A Sailing Holiday – Arklow